Black and White Wedding
September 06, 2009
A black and white themed wedding is a classic! Simple, yet sophisticated, it is very popular and quite easy to plan. You can decide if you want an elegant feel, vintage, or a fun and retro feel. An option is to add an accent color and incorporate it into your theme. It is important to not go overboard with the contrasting color so you don't distract from the main theme. Good contrasting colors are red, pink, gold, silver, midnight blue.

Black and White Invitations
Start with the invitations. They should be black and white to match the wedding theme. You might have a white background with black vines and flowers to give it a vintage feel. Have black and white stripes or polka dots for a retro feel. If you have an accent color, try to incorporate it in the invitation such as adding a colored ribbon, or color the text. If you want to go all out - have a black and white dress code for your guests, which makes for the ultimate black and white weddings!



Black and White Decorations
Keep the decorations sweet and simple. White chair covers with a black bow, black and white balloons, white tablecloths with black plates, napkins, etc, fill a glass vase with black and white marbles and stick in a black or white candle. Create a different at every other table by filling the vase with black and white marbles, add water and white roses, or black/white floating candles. Incorporate an accent color by adding a small colored centerpiece, candles, rose petals, place holders, or ribbon.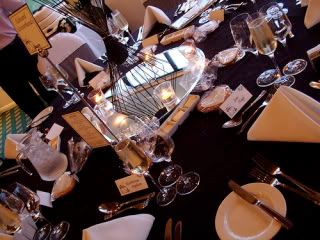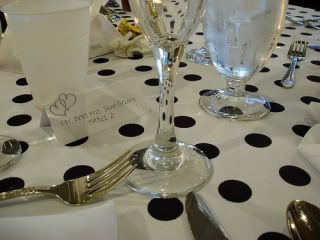 Black and White Attire
The more simple, the better. Puffy, frilly dresses usually don't go well with a black and white theme. Straight cut, simple, chic.

The Bride - all white dress, white dress with simple black design, white dress with black sash. A beautiful idea is to wear a white dress with a sash in your accent color. This especially makes the bride stand out if you have a black and white dress code. All black dresses aren't very common, but can be beautiful if simple and elegant. A cute, "50s style" black and white polka dot dress would look perfect for a retro wedding. A bouquet of black and white roses, orchids, calla lilies, gardenia, white lilies would look stunning!

The Bridesmaids - simple, black dresses. Incorporate your accent color with a sash, scarf, or a single colored rose.

The Groom and Groomsmen - black tux, white shirt. Optional accent color for the cumberbunds.



Black and White Wedding Favors
Black and white candies, strawberries dipped in white and dark chocolate, white bubbles, put almonds in a tuxedo or bridal dress favor box, personalized black match books, black floral stationary, dress and tux cookies.



Have fun planning your black and white wedding!