Wedding Colors & Theme
Last updated: September 13, 2009
When choosing the colors for your wedding, first take into consideration the
location
. You may want to choose lighter pastel colors for a garden wedding in spring, or a nice blue/white combo for a beach wedding. A gold/silver combo would look great in a formal ballroom.
Popular wedding colors
: white, pink, blue, purple, orange, green, red, yellow, brown
Popular wedding color combos
:
black and white
, red & white, brown & pink, pink & white, silver & gold, green & brown.
Next, consider the
season
. Light pastels can loo beautiful in the spring, but can look washed out in the fall or winter. Bright, warm colors look best in summer. Keep dark, richer colors for the fall or winter.
Popular spring colors
: pink, pale yellow, blue, green, purple, pastels
Popular summer colors
: bright orange, sunny yellow, red, green, pink
Popular fall colors
: light green, burnt orange, burgundy red, faded yellow, chocolate brown, gold, darker hues
Popular winter colors
: silver, ice blue, midnight blue, ruby red, emerald green, clear crystal, gold, grey
Use your colors in
Attire
bridesmaid dress, groomsmen ties, vests, cuff links, sash around bridal dress
Flowers
bouquets, boutineers, corsages, centerpieces
Decorations
tulle, chair covers, ribbons, candles, napkins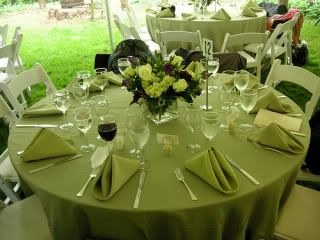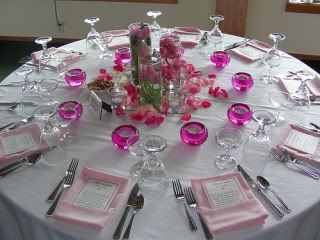 Wedding cake
flowers, cake topper, icing, sugar decor
Invitations
ribbon, font color, card color
Favors
Just don't go overboard and make everything a certain single color, as this can be overpowering and draw attention away from the bride and groom. For instance, an all-blue wedding can be beautiful, but use different shades. Think royal blue, navy blue, baby blue, sky blue, cornflower blue, indigo, etc. and go from there.
Be sure to do lots of research. Look through magazines, fabrics, etc. Get swatches and decide what colors look best. When doing combos, choose a main color first and then try to find shades that accent it.
Wedding theme ideas:
Animal
Beach
Celestial
Country Western
Fairytale
Fantasy
Garden
Gothic
Sports
Tropical
Valentine
Vintage
Winter Wonderland
Ideas for decorations (by season):
Spring
- flowers/petals, birds, fruit, butterflies
Summer
- beach balls, sunglasses, shells, coconuts, sand
Fall
- leaves, pumpkins, gourds, Indian corn, wheat stalks, acorns
Winter
- snowflakes, ice crystals, candy canes, holly, twinkling lights, poinsettias, pine garlands