Bridal Hairstyles
Last updated: September 13, 2009
There are numerous wedding hair styles that you can choose from for your big day. You should choose a hair style that compliments your face and your wedding gown.
Research different hairstyles
Look around and find some hairstyles you like. Find ideas from websites, magazines, friends, hairdressers. Many bridal magazines have tons of different hairstyles, and you can also see how certain styles look with certain types of dresses.

Sample
If possible, your hairdresser should practice the hairstyle on you a couple times before your wedding. This gives you time to try out different styles, find the appropriate hair jewelry, and make sure it looks exactly how you want it! Remember, if you are going to cut or color your hair, you should do so about one to two weeks before your wedding day.
Try to style your hair different ways, even if you are set on how you want to wear it. Get a complete up-do, down style, half-up and half-down. You might be surprised with the results and you may find that you like a certain style better than your original.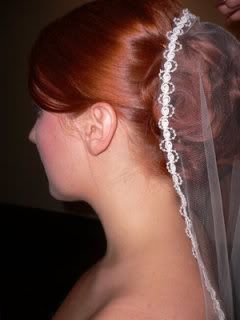 Dress Style
When going for your sample hairstyle appointment, we suggest wearing an outfit that is similar to your wedding dress. This way, you can get a good idea of what you will look like on your wedding day. You may wear spaghetti straps, sleeveless shirt, long sleeved white shirt, or a tube top or strapless dress. Up-dos usually look best with a ball gown or a dress with a low back.
Headpiece and jewelry
Decide whether or not you want to wear a headpiece, flowers or jewels in your hair. These can make a difference when choosing your hairstyle. If you are wearing a tiara, hair usually looks the best when it is pulled back. Find a way to securely attach your headpiece to your hair. If you have wavy or curly hair, wide-toothed combs work best. For straight and fine hair, you should use finer combs. Bobby pins or barrettes can be a life saver! Don't forget to bring your tiara or veil with you when you go for your sample hairstyle appointment. For jewelry, it is better to wear elaborate earrings if you wear your hair up, and simple earrings if you choose to wear it down.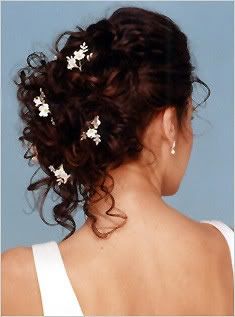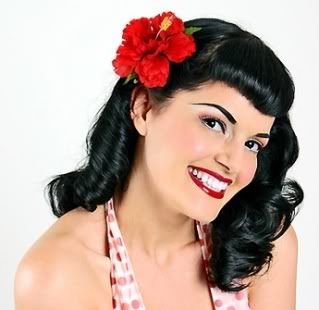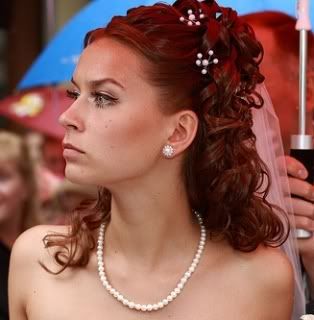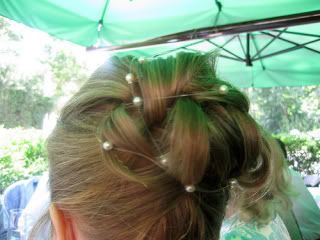 More factors in choosing your wedding hairstyle might include:
Weather (hot, humid, cold, rainy, windy, etc.)
Location (beach, mountains, church, etc.)
Time (morning, afternoon, or evening)
Length of wedding and reception
Religious or cultural customs
Style ideas for different types of hair:
Long hair
Loosely curl long layers and leave hair down.
Up-do
Side low pony tail
Elegant braid
Crown or cascade braid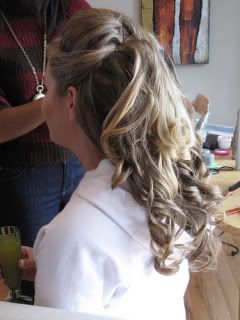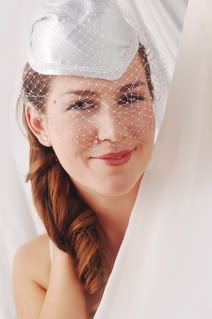 Short hair
Pushed up in soft waves
Pushed back with a headband
Slicked back with a jeweled clip in the back
Parted to one side
Pin up curls, place small individual flowers throughout
Classic bob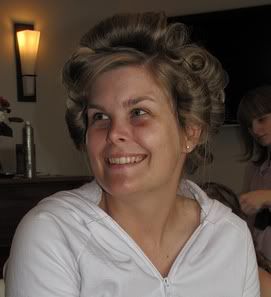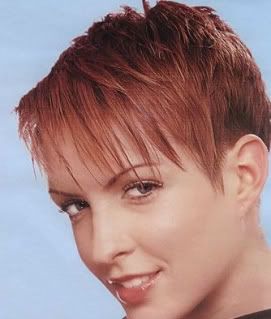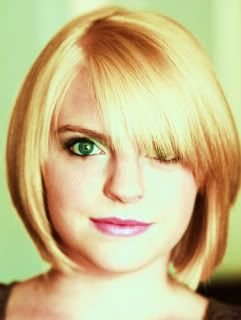 Curly/Wavy hair
Parted to side
Formal up-do with ringlets
Soft, messy up-do
Half up, half down
Straight hair
Parted in middle, or to side
Curled under on ends
Up-do in a elegant bun
Pouf
Elegant braid
Knots